Sponsors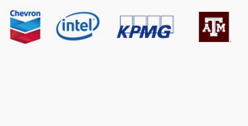 From the start, we intended the True Blue Inclusion Solutions Forum "Writing the W into Engineering" at Texas A&M University to reshape Engineering and open up a remarkable new vista for changing the landscape.
Inclusion is more than an idea. Meaningful and high impact efforts aiming for inclusion must not only be actionable. They must herald forth the diverse array of perspectives that make any community, corporation, or culture great. It is through this lens that we conceived of and sought out to create Writing the W into Engineering: A BluePrint for Action.
Over the course of several months, True Blue Inclusion, Intel and Chevron worked to curate a unique collective of individuals to address the ways in which the field of engineering could better reflect America and the rich talent that is becoming increasingly engaged in the STEM fields. The result of our expedition into this space was an invitation-only event that has culminated in the creation of a seamless plan to engage in critical dialogue for inclusivity, cobbled together from a variety of experiences and best practices.
Leading up to our two-day solutions summit, the vision for this BluePrint for Action was to create a document that delivers actionable steps anyone can take to increase the presence and participation of women in the engineering fields. While we are mindful that a 'one-size-fits-all' approach does not work in any diversity context, we believe the insights set forth in the following pages provide a broad roadmap from which members of industry and academia alike can develop actionable, sustainable plans best suited to their institutional and organizational needs.
The Process of Creating Change: The BluePrint for Action
The BluePrint for Action, strives to remind participants from the Writing the W into Engineering Summit and those reading of the challenges women face with respect to participating in the engineering fields. We also look to posit bold new ideas in our Writing the W LinkedIn group that spur greater efforts at inclusion. In so doing, True Blue Inclusion and our partners including Chevron and Intel hope that everyone who took part in our event, along with members of their respective communities with whom they may share this report, walks away with a more actionable picture of the steps they can take personally to affect change.
Since its inception, True Blue Inclusion has remained singularly focused on developing innovative strategies that sow the seeds of greater diversity and inclusion efforts across a variety of contexts. Here, as in the past, we look to start conversations that are often overlooked, and agitate, where necessary, the ideas needed to dramatically impact this industry.
The BluePrint principally records discussion around the three session topics:
Man Up: Why Men?
Difference Makes Me Strong: The Resiliency of Individuality
Women: Why So Few? It's an "And" World. Attract and Retain
The field of engineering is rich with opportunity and ripe for disruption. With this BluePrint for Action, we invite you to join us in taking the next steps forward toward ensuring truly diverse talent seeds the innovative potential of this field, with an eye toward meaningful inclusion efforts.
Download the BluePrint for Action
Comments from Participants:
We have to flip the switch and see a new place for freedom, for creativity, for invention."
If you want more women, you have to create more possibility, and you have to do it younger and younger."
Data is useless unless it leads to insights, and insights are useless unless they lead to action"
Even in the workplace, it's so easy for women to be undermined. You have to look at yourself and figure out what you are going to do about the problem, not just point a finger."
Context is key to get men on board"
Personal action is the first step toward facilitating broader efforts of inclusivity"