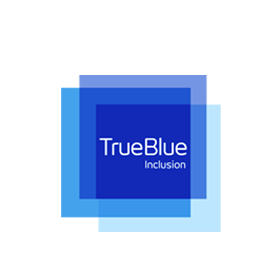 Join Our Team
True Blue Inclusion offers its employees opportunities to gain an insight into the world of diversity and inclusion consulting. By supporting groundbreaking research, curating exciting communication pieces, and organizing small and insightful events, fellows gain valuable experience that easily drive them towards a solid career path.
Current Openings
Diversity and Inclusion Fellowship
True Blue Inclusion is a fast growing Research Firm and Think Tank for Chief Diversity, Ethics, Social Responsibility and Talent Officers representing some of the largest National and Global Fortune 200 companies. Made up of a small and dedicated team, True Blue Inclusion is a collaborative workplace that allows for truly interesting conversations, both with coworkers and our member clients. The office environment is casual but allows for everyone to hold one another accountable as they work through a variety of exciting projects.
This Fellow will be responsible for working directly with the organization founder and some of the best minds in the diversity and inclusion arena. A working background, either through internships or study abroad in multi-cultural issues is a strong plus. An open mind and acceptance of human differences as a competitive advantage for organizations and society is required. This is a fast paced organization so intellectual agility is necessary in order to be successful. The individual will attend meetings and conferences, locally, nationally and globally. There are exciting opportunities to travel around the U.S. and abroad, so flexibility is required. While the normal business hours are 9AM – 5PM, attending evening meetings, dinners and socials are part of the individual's responsibilities.
Knowledge and Skills Required:
Microsoft Office: Word, PowerPoint, Excel and Outlook
Able to work with a team
Able to communicate effectively (needed for correspondence with clients and prospects)
Presentation/Facilitation Skills
Writing/Editing
External Research
Responsibilities/Expectations
Office Calendar Maintenance
Notetaking
Writing Event Summary Reports
Independent and Collaborative Event Planning
Website Content Maintenance
Maintaining Social Media Presence
Traveling both internationally and domestically
Attending meetings (inc. evening events)
Make phone calls
This Fellowship lasts for a period of up to 2 years and rewards the Fellow a stipend of $30,000-$35,000 annually. The final number is decided upon based on the applicant's experience.
For consideration, please submit your resume and a writing sample to carlton@trueblueinclusion.com.